It's time again for my TTT list.  The Broke and the Bookish suggested a list of the Top Ten Books I Enjoyed that have Under 2,000 Ratings on Goodreads.  I was quite surprised when I went to my Goodreads account in search of this information, and I hope that some of you will help increase the number of Ratings for these on Goodreads.
 
I thought this book was fantastic!  I know that Betsy is a fairly new author, and she's an indie, so read this book and rate it on Goodreads.  This book is an incredible love story.  It touched my heart deeply and left a lasting impression in my mind.  It is absolutely unforgettable and worth the read.  I was shocked to see that this book has less than 300 Goodreads ratings.
2. 
This is a good read as well.  It begins with gladiators, includes a love story and the loss of a city.  It currently has less than 700 Goodreads ratings.
3. 
This was one of the ones that really surprised me because Tosca Lee is a well-known successful author.  She has co-authored some works with Ted Dekker, and yet this book currently has less than 1,700 ratings on Goodreads.  I liked this story quite a bit.  It was interesting to take a well-researched, yet also imaginative, journey into the story of Adam and Eve of the Bible.  Since the Bible couldn't possibly tell us everything about the lives of all of the fascinating people it teaches about and their time periods, it's very interesting to think about what more of their lives may have been like, and Tosca Lee does this well within the structure of what their time and lives may well have been like due to her in depth research.
4. 
    and    
These are two great books for those of you who like suspense filled with weird or otherwordly things.  If you've never read any of Mike Dellosso's books, you don't know what you're missing.  If you like Dean Koontz's works, you'll like Mikes Dellosso's stories as well. So, go ahead, read a Mike Dellosso novel and boost those Goodreads ratings.
5. 
This is the first book in the "Amazing Tales of Max and Liz" series by Jenny L. Cote.  Technically, these books are written for kids, but if you are an animal lover, you will love these stories not matter your age.  They are a great series for parents to read aloud to their kids or to enjoy as a family.  I read this one on my own first, then I read it to my 11 year old son, who absolutely loved it.  We just started reading the second book in the series and have already fallen in love with one of the new animal characters Jenny introduces in it.  This book currently has less than 300 Goodreads ratings.
6.  
My favorite books have always been romance and love stories, and in recent years if they have history included, all the better.  This is a wonderful story about Emma Chambers and a rash decision she makes so that her brother may be free from worrying about her.  At first she believes she may face an unhappy future because of her decision, but things eventually change for the better.  This is the first book in the "Beacons of Hope" series by Jody Hedlund.  This book currently has less than 1, 400 Goodread ratings.
7.  
Yes, I am a big Mike Dellosso fan, and so I would love to see more people reading and rating his books.  This one has been touted as "his best yet", but  there is a sequel to this that just came out — Kill Devil which is getting great reviews on Amazon.  These two books are full of suspense and have been compared to the Bourne series by Robert Ludlum. Centralia currently has less than 200 Goodreads ratings.
8. 
,   
  and  
This series by Eliot Pattison is a story about mysterious killings that take place in Colonial America.  I love history and have always been fascinated by the American Indians and disgusted with the European immigrants' treatment of them, so I enjoyed these books.  Currently, Bone Rattler as less than 1,300 Goodrreads ratings, Eye of the Raven has less than 300, and Original Death has less than 200.
9.  
, 
, 
, 
 and 
Yes, this is an historical romance series.  It is set in the Old West.  The books are short, easy reads and are quite enjoyable, especially when you want a good read but don't have a lot of time.  Also, Colleen Coble is a well-established author, who wrote this series sometime ago, and just recently re-released it.  A Heart's Disguise has less than 270 Goodreads ratings, A Heart's Obsession has less than 210, and the last three books of this series each have less than 200 Goodreads ratings.
10.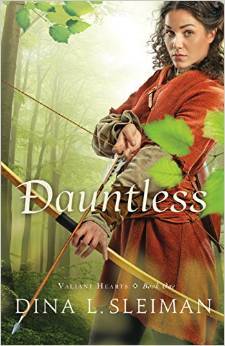 Dauntless is the first book in the Valiant Hearts series by Dina L. Sleiman, and it recently was in the finals for the Young Adult category in the Carol Awards.  It's a great book that includes history, action and adventure and romance!  Yet it has less than 1,000 Goodreads ratings.  Also, the third book of this series, Courageous, releases tomorrow!
Of course, I have rated all of these on Goodreads and you can also find my book reviews on them here on my blog under the Book Reviews category.