The Pony Express route was nearly 2,000 miles long overland. There were about 190 stations along the route, mostly in Nebraska, Wyoming, Utah, and Nevada. The route required about 10 days to cover. Never before in history had a letter been delivered over such a distance so quickly, though it was mainly newspapers and businesses that used the Pony Express delivery.
Each rider rode about 75 to 100 miles and changed horses every 10 to 15 miles.
The Pony Express rider, in my story, rides from St. Joseph, Missouri, to Seneca, Kansas, which was 70 miles west of St. Joseph.
The above photo is a photo of a relay station, and you can see at either end of the building, behind it is another building. That is the horse stable, which was usually only a few feet from the living quarters. A relay station only housed two men — a station keeper and a stock tender, otherwise known as a horse wrangler.
The stock tender, or horse wrangler, cared for six horses and had a horse ready, day or night, for the next rider. When the station attendant saw a big cloud of dust coming, he knew it was a Pony Express rider. The riders also adopted a shout, known as the "coyote call", that they used to alert the station of their approach.
Relay stations were built every 10 to 15 miles apart, and as a rule, a Pony Express rider had just two minutes to get a drink, go the the bathroom, and change the mochila over to the fresh horse.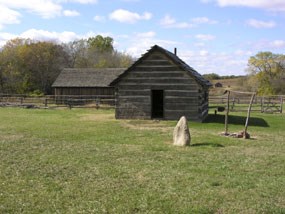 The above photo is a photo of a home station. As you can see, the living quarters are a bit larger than the living quarters in the above photo of a relay station. That is because a home station housed the station keeper, stock tender, and a couple of riders who had come from either end of the route and handed off the mochila to a fresh rider with a fresh horse. Home stations were usually located at a ranch, hotel, or a town livery stable. (In my upcoming novel, my main character lives in a town with a town livery stable and a hotel, but chooses to live in a boarding house. When he rides his share of the route to Seneca, Kansas, he stays at a home station to rest and await the mochila that is coming from west to east.)
Both relay and home stations typically had dirt floors. Furniture often consisted of boxes, benches, barrels, or anything else the ingenuity of the occupants could contrive. Beds were pole bunks that were built against a wall. They had rope frames attached to poles, and the ropes had to be tightened every night. The thin mattresses were filled with grass, hay, or straw, any of which included bugs. Some were filled with horse hair.