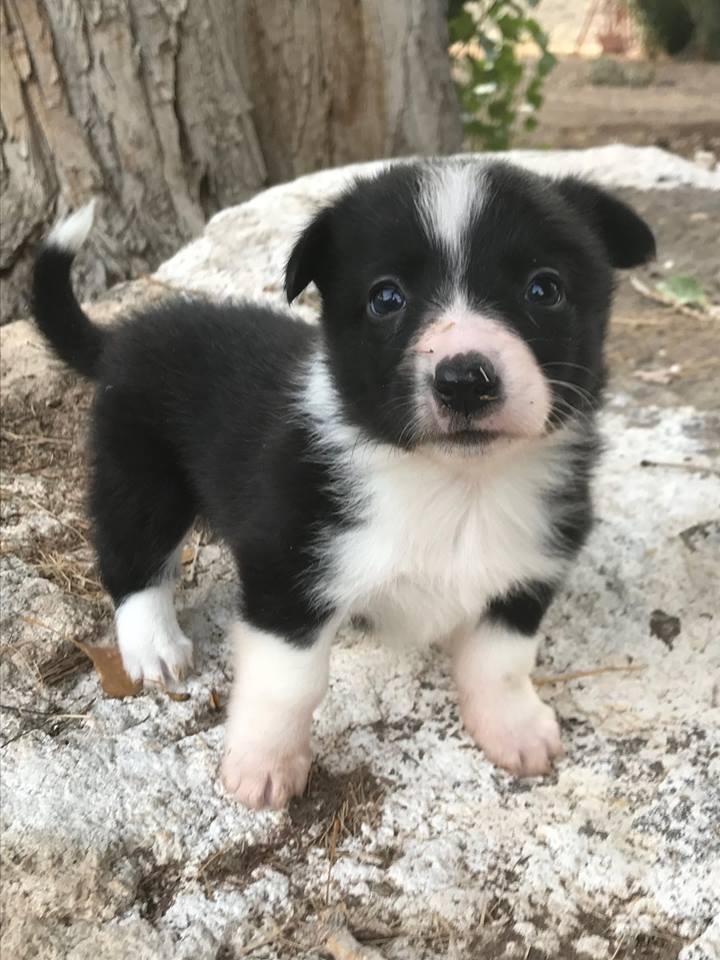 Puppy Love
by Kelly F. Barr
Janie rode her bike home from school, but stopped outside the pet shop display window. In the window was a litter of eight puppies – some were black and white, some brown with white spots. Janie put her hand on the window and a black and white puppy waddled over and pressed his nose against the window across from the same spot. Janie squatted down, put her face near the window, and said, "Hi there. You are so cute!"
She parked her bike where it wouldn't block sidewalk traffic and raced into the pet shop.
"Well, Janie. What brings you into my shop this sunny afternoon?"
"Hi Mr. Walters. I was looking at the puppies in the front window. Could I hold one of them?"
Mr. Walters smiled at her. "One of them caught your attention, huh?"
Janie bobbed her head up and down. "A little black and white one. It came right up to my hand at the window."
Mr. Walters walked to the front window, Janie on his heels. He opened a panel and let Janie look in and point out the puppy that had caught her eye. Then he reached in, brought the pup out, and handed him to Janie.
The little ball of fluff nestled into her neck and put it's head up and licked her chin. Janie giggled. "See, Mr. Walters, he likes me!"
"Yes he does. But Janie, a dog needs to be well taken care of. He needs to be fed twice a day. He'll need to be trained to go to the bathroom outside. You'll need to take him outside quite frequently until he gets bigger. And he'll need to be taken for walks. He'll need annual checkups at the veterinarian's clinic too. It's a big job to take care of a puppy."
"Oh, I don't mind. I can do it because he's so cute, and he'll be my best friend." Janie paused and wrinkled her brow.
"What is it Janie?"
"Well … first I have to buy him. How much is he?"
"He's $200."
Janie frowned. "That's a lot of money."
"Yes it is, but it's not as much as a purebred puppy would cost."
Janie looked up at Mr. Walters. "What kind of puppy is he?"
"He's called a Borgi. He's a mix between a Border Collie and a Welsh Corgi."
"Mr. Walters, could you promise not to sell him until I can talk to my parents and, maybe, bring them to see him?"
Mr. Walters looked at the puppy, now asleep in Janie's arms. He rubbed his chin with an index finger. "Well, usually, puppies are sold on a first come, first served basis."
Janie's lower lip quivered, and Mr. Walters said, "I suppose … well, you are the first one to ask about him. So, I guess I can wait until … Friday?"
A wide grin spread across Janie's lips. "Two days? Do you mean it?"
Mr. Walters nodded. "Parents take their time to make such decisions, so, yes. But you have to give me an answer after school on Friday, okay?"
"Yes sir, Mr. Walters. Thanks!" Janie handed the puppy back to the pet shop owner, rushed out to her bike, and pedaled home.
She raced into the kitchen, letting the screen door slam behind her.
"Janie! Where's the fire?" Her mom placed two chocolate chip cookies on a plate, then poured a glass of milk.
Janie dropped her backpack on a kitchen chair and plopped down in the chair beside it. Her mom placed the plate in front of her on the table.
"I don't know anything about a fire, but guess what I saw at Mr. Walters' pet shop?"
Her mother smiled. "I don't know. What did you see?"
"Puppies! Mr. Walters has eight puppies in the front window. I stopped and put my hand on the window and one of the puppies came right up to my hand. I went in and talked to Mr. Walters. He let me hold the puppy. Do you think Dad will let me get him? Mr. Walters said he'll hold the puppy for me until Friday."
"Oh Janie, I don't know. Taking care of a puppy is a big responsibility, and it costs money. Not just to buy the puppy but to feed it and buy some items you'll need to care for it. Then there's the annual veterinarian costs."
"Mom, I really want this puppy. I promise I'll take good care of him."
"We'll see what your father says. Now eat your cookies and drink your milk, then get that backpack up to your room."
"Yes, Mom."
That evening, when her father came home, Janie was setting the table for dinner. She put the stack of plates on the table and ran to greet him. She threw her arms around his waist and squeezed.
"Well, what a nice greeting." Her dad squatted down to her level and gave her a proper hug. "It's good to be home."
"Did you have a good day?"
"It was okay. Why do you ask?"
"I just want to know if you're in a good mood."
"Uh-oh. Sounds like you're up to something. What is it?"
"We-ll." She told her dad about the puppy. "So, can I have him?"
"Janie…"
"I know. It's a big responsibility. But I can do it. I promise."
"I'll talk to your mom about it after you're in bed, and we'll let you know tomorrow at dinner, okay?"
Janie nodded.
"You may have to do more chores around here too, if we decide to let you have the puppy."
"Because it's expensive?"
"Yes, because it's expensive." Her dad kissed her on the forehead.
* * * * *
The next day, Janie stopped to tell Mr. Walters she'd have an answer for him the next day.
When she got home from school, she went straight to her room to do her homework.
After a while, she heard her mother call, "Janie, please come down and set the table. Your dad will be home soon."
Janie pounded down the stairs and hurried into the kitchen. She finished setting the table just as her father stepped through the door.
"Hi Daddy."
"Hello pumpkin." He bent down and kissed her cheek.
He was in a good mood. She hoped that meant she could have the puppy. She wanted to ask, but knew she needed to wait. Her parents would tell her when they were ready.
Janie pushed her food around on her plate. She couldn't get food past the butterflies in her stomach. If her parents would just tell her, maybe she could eat her dinner.
"Janie, is something wrong with your food?"
"No mom." Janie speared a piece of chicken and forked it into her mouth.
Her father grinned and looked at her mother. "I guess we shouldn't hold her in suspense any longer."
Her mother smiled and nodded.
"Janie, I'll be leaving work early tomorrow, and your mother and I will pick you up from school. Then we'll go to Mr. Walter's pet shop."
Janie's fork clattered as it dropped onto her plate. "You mean…?"
"This puppy is going to be your responsibility, along with extra chores, which we'll talk about later. As long as you are responsible and work hard, the puppy is yours."
Janie got out of her chair and ran around the table to give her father a big hug. "Oh, thank you!" Then she moved to hug her mother. "Thank you!"
Janie returned to her seat and finished her dinner.
* * * * *
Friday, Janie struggled to keep her mind on her classes. She kept clock watching, wishing the hours would pass faster.
When the final bell rang, she forced herself to fast walk out of the building, but she really wanted to run. Once outside, she raced down the steps and out the walkway to her dad's Ford F-150.
Her father drove to the pet shop, and the three of them walked in together.
Mr. Walters looked up and smiled. "Well, Janie. I'm guessing, by the smile on your face, you're here to take home a certain little puppy."
"I sure am, Mr. Walters."
Mr. Walters retrieved the puppy from the front window and placed it in Janie's arms. Then he helped them pick out the items she would need to begin life with a puppy.
"So, what are you going to name him, Janie?"
Janie looked at the puppy, then looked up at Mr. Walters. "His name is Jasper."